California has some of the strongest worker protections, which include the requirement that all employers must carry workers' compensation insurance. Workers' compensation insurance protects employers from civil personal injury claims, and it also protects employees by providing them the coverage they need for medical costs, lost income, and future care.
This compensation is often necessary for an employee to remain financially stable as they recover, particularly when they have high medical bills.
What Happens to Medical Bills When Workers' Compensation Is Denied in California?
Denial of a workers' compensation claim can be devastating, as you may suddenly find yourself facing full liability for medical costs and no compensation for lost income. However, it's important to know that the denial of your workers' compensation claim is not the final step, and the decision could be appealed. If an appeal is not possible or is unsuccessful, there are other options for recovery.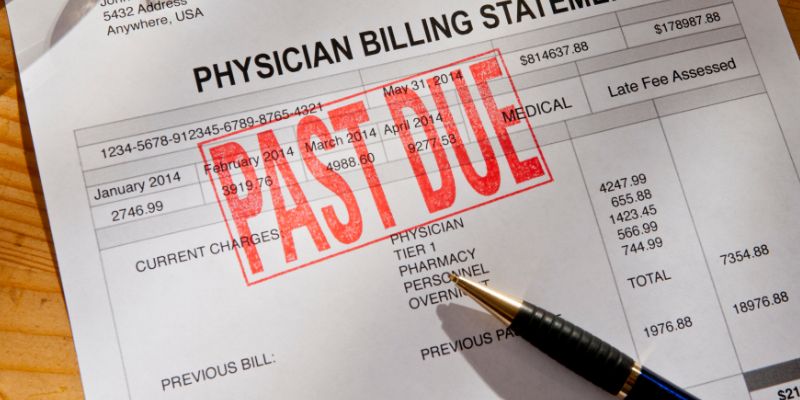 Reasons a Workers' Comp Claim May Be Denied
There are several possible reasons why a workers' compensation claim may face denial:
Statute of Limitations: If you missed the statute of limitations to file your claim, which is one year from the date of the incident, your claim will likely be denied.
Filing Deadlines: There are other filing deadlines, such as the 30-day deadline to report the accident or condition to your employer. Missing this deadline could result in your claim being denied.
Not Work-Related: An employer may claim your injury or illness is not work-related, which would make the injury ineligible for workers' compensation.
Preexisting Condition: In California, if a preexisting condition is worsened or accelerated by your work, you qualify for workers' compensation benefits. An employer may claim that activities outside of work worsened the condition or that the condition would have worsened on its own.
Lack of Evidence or Information: Your workers' compensation claim may be denied if you failed to include the proper information, medical documentation, and other evidence to support your claim.
For some denials of workers' comp claims, an appeal will not be successful, as the claim simply does not qualify. However, if your employer is wrongfully or maliciously denying your claim in bad faith, or if another mistake was made, you may be able to successfully appeal the denial.
Appealing a Workers' Compensation Claim Denial
If your workers' compensation claim was denied, you must take action within three years of the decision date, preferably sooner. If you do not take action in that time, the denial decision is final. To begin the appeals process, you can:
File an Application for Adjudication of Claim
The first step is to file an application with the Division of Workers' Compensation (DWC) in the California Department of Industrial Relations (DIR). This is the application for the adjudication of your claim, which is filed with the court in the county where you live or where you were injured.
Judge Hearing
You file a declaration of readiness to proceed in order to request a hearing. At the hearing, the judge will hear the information related to the case and try to reach a settlement. If no settlement is reached, a trial with another judge will be set. After this trial, the judge will make their decision within 30 to 90 days.
File the Appeal
If the judge upholds the decision to deny your claim, you can file a petition for reconsideration to appeal this choice.
Options for Covering Medical Bills
If your workers' compensation claim is still denied, you will have to cover the medical bills from your injury or illness. However, you may not have to pay these costs out of pocket. Other options to cover the costs include:
Group health insurance
Medicaid
Medicare
An attorney can help you determine what option is beneficial to your situation and if you qualify.
FAQs:
Q: What Should Happen if an Employer Has Denied an Employee's Worker Compensation Claim?
A: If you were injured in a workplace accident, it can be frustrating to face a claim denial. You are likely facing income loss and medical costs, and being told you will not recover compensation for those damages can be upsetting.
Know that you can file an appeal on the decision. You may be able to file a petition for reconsideration or a petition for removal. Filing an initial claim and filing an appeal is more likely to go in your favor with an experienced workers' compensation claim and appeals attorney.
Q: How Long Does It Take a Judge to Approve a Workers' Comp Settlement in California?
A: Once an injured employee and a workers' compensation insurer reach a settlement, the settlement amount must be approved by a judge. Once you file for this approval, the judge will schedule an informal hearing. The amount of time this takes will depend on the schedule and availability of the court the hearing is scheduled at. It may take several weeks or months.
At the hearing, the judge will ensure the terms of the agreement are fair and that the employee understands the terms. Once approved, the employee should receive their first or lump sum payment in days.
Q: What Is the Statute of Limitations for Workers' Compensation in California?
A: The statute of limitations for a workers' compensation claim in California is one year from the date the accident or injury occurred. If the workplace injury is a developmental illness, the one-year statute begins from the date the employee knew or should have known that they had an illness or condition caused by their workplace.
Filing a claim is a separate process from informing your employer that the accident took place. Although a year may seem like a significant time to file, it's important to file as quickly as possible.
Q: When a Workers' Compensation Claim Is Denied, Can the Employee Appeal the Denial?
A: Yes, an employee can file for an appeal if their workers' compensation claim is denied and the following is true:
There is new evidence in the case
The final decision to deny the claim does not match the evidence presented
The denial decision will cause the employee great harm
There was fraud involved that led to the denial
If you are unsure whether your workers' compensation claim denial is eligible for an appeal, a knowledgeable attorney can review your case.
Advocating for Employee Rights
Navigating the appeals process can be frustrating, but the qualified workers' compensation attorneys at Mitchell Law Corporation can make it easier. Contact our firm today to see how we can help your claim or appeal be more likely to succeed.