Southern California workers' compensation Lawyer

Working on a farm or in any part of the agriculture industry is inherently dangerous for many reasons, and farm workers report many work-related injuries in Southern California each year. It's common for victims of these work-related injuries to have lots of questions regarding their recovery options, and many people in this situation do not know how to approach the difficult proceedings they may face as they seek the benefits they need to help them recover. If you work in the agriculture sector and suffer any type of work injury, it is vital to know your options for recovery and how the state's workers' compensation laws apply to your situation.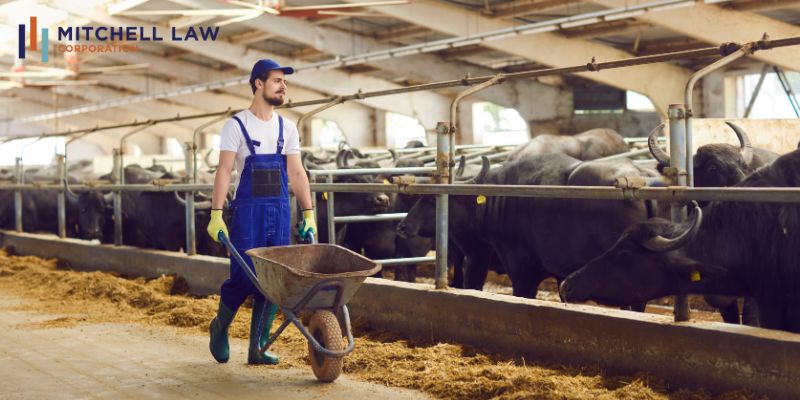 Legal Counsel for Injured Farm Workers

Almost every employer in the state is required by law to have workers' compensation insurance. Some agricultural workers are exempt from workers' compensation coverage, but this only applies to very few working for very small operations. If you are unsure of your eligibility to start a workers' compensation claim in response to a work-related injury, it is crucial to discuss this with your employer. State law requires all employers to disclose their employees' eligibility status and categorize employees correctly for the purposes of workers' compensation.
The attorneys at the Mitchell Law Corporation can provide the comprehensive legal support you need in the aftermath of any type of work injury. Our firm has represented injured workers throughout Southern California for more than 20 years, and we are ready to leverage this experience for you as you seek the benefits you need to recover as fully as possible.
Why You Need a Southern California Workers' Compensation Attorney

It is technically possible for an injured farm worker in Southern California to pursue their workers' compensation claim on their own. There is no law that requires you to hire legal counsel, but you are far more likely to succeed with your claim if you have an attorney representing you. Even if your employer upholds their legal responsibilities with regard to your claim in good faith, you could still encounter problems with their insurance company that you will not know how to address on your own.
Ultimately, it is possible for any injured farm worker to encounter issues with their employer and/or their insurance carrier after a work-related injury, and it is possible for them to have grounds for further legal recourse outside of the workers' compensation system. If you want to have the greatest chance of success in recovering as fully as state law allows, it is vital to work with a seasoned attorney who has the experience necessary to address the most challenging aspects of your case.
When you choose the Mitchell Law Corporation to represent you, we will immediately begin helping you gather any evidence you need to prove that your injury is covered by your employer's workers' compensation insurance policy. If you encounter any problems with your employer or their insurance carrier, we will resolve them for you, and if you have grounds to pursue additional compensation with a third-party personal injury claim, you can rely on our support throughout all these proceedings.
Commonly Reported Injuries Among Farm Workers

Southern California workers in all industries report many types of workplace injuries each year, and agricultural work poses several unique risk factors that every employee in the industry must acknowledge. A few of the most common causes of workers' compensation claims among agriculture workers include:
Injuries from heat exposure, such as heat stroke. Working in direct sun for extended periods of time is extremely hazardous. All workers in such conditions must have access to water and shade and take frequent breaks. Heat stroke and exhaustion can be life-threatening if an affected worker does not receive prompt medical attention.
Tractor accidents. Tractors are essential to many agricultural operations but are a leading cause of workplace accidents in this industry. A tractor accident could potentially involve a rollover or tip-over accident that crushes the victim, and it is possible for catastrophic injuries to occur from machinery attached to the tractor.
Injuries from livestock. When working with animals, it is possible for livestock to act unexpectedly, potentially injuring those responsible for their care and handling.
Cuts and lacerations from farming tools and equipment. These injuries can be devastating and life-altering.
Acquired illnesses. Farm workers throughout Southern California are commonly required to use herbicides, pesticides, and other potentially harmful chemicals that can cause serious medical conditions to develop over time, including cancer. You can claim workers' compensation benefits for an illness you acquired through work, but it may be challenging to prove that your job duties were the direct cause of the illness.
Falls are some of the most commonly reported workplace accidents across all industries. A fall can potentially cause broken bones, traumatic brain injuries, and even life-threatening internal organ damage.
These are only a few examples of injuries that farm workers suffer on a regular basis throughout Southern California. When it comes to determining whether an injury qualifies for workers' compensation, the main determining factor is whether the injury occurred while you were working. As long as you were doing your job in good faith when the incident happened, you are likely covered by your employer's insurance. This applies even if you caused your own injury, except under specific conditions. For example, if you were working while intoxicated by drugs or alcohol and caused your own injury, it would likely disqualify you from workers' compensation benefits.
Filing Your Workers' Compensation Claim

Once a workplace injury happens, you should report it immediately to your work supervisor and seek medical attention. Your employer must make an incident report of the accident and give you the materials you need to file your claim. If your employer interferes with this process, fires you in response to your request to start a workers' compensation claim, or otherwise retaliates against you, you will need a workers' compensation attorney to help resolve any such issues you encounter.
Filing your claim is similar to how you would file any other type of insurance claim. However, you face the additional complication of your employer's involvement in the process. If your employer upholds their responsibilities in good faith, they will facilitate the claim filing process, and you can submit your claim to their insurance carrier.
Your claim determination is likely to entail a medical examination. Although you can go to any doctor during an emergency after a serious injury, you will likely need to visit a physician approved by your employer's insurance carrier so they can evaluate your claim. This doctor will assign you a disability rating that indicates the overall seriousness of your injuries and will be a number between one and 100. The higher the disability rating, the more you should expect in workers' compensation benefits.
The insurance carrier will need to review the incident report for the injury and the medical report from the workers' compensation physician you visit during their determination process. If they reject your claim, your workers' compensation attorney can be highly valuable for helping you appeal this decision or submitting a complaint to the California Division of Workers' Compensation if necessary. If your claim is approved, you should shortly thereafter receive your determination of benefits.
Benefits Available Through Workers' Compensation Insurance

Workers' compensation serves to provide an economic lifeline to an injured worker, covering their medical expenses and providing limited compensation for their lost income following their injury. Generally, a worker who becomes injured can expect their employer's insurance carrier to pay for all the medical care needed to fully recover, including the cost of ongoing rehabilitative care they may require for a catastrophic work injury.
When it comes to income replacement benefits, it is possible for an injured worker to receive either partial or total disability benefits depending on the severity of their injury. If they can continue working after their injury but are unable to the income they did previously, they will likely receive disability benefits that partially replace the difference in their earnings. They must report all of their income each week to maintain eligibility, and each payment will be based on how much they are able to earn on their own. These benefits can continue until the employee is able to return to their previous job and earning capacity or until they train for a new job that earns the same level of income as they earned before the injury occurred.
Total disability benefits are awarded to workers who are unable to work at all during their recoveries. These benefits are paid weekly based on how much the claimant earns on average each week. Generally, total disability benefits amount to about 66% of the claimant's average weekly wages, so if they usually earn $1,200 per week at work, they can expect about $800 per week in disability benefits. State law allows these benefits payments to continue for up to 104 weeks or until the claimant is able to resume work. If they are still disabled after 104 weeks, or if they suffered a catastrophic injury causing permanent disability, they might qualify for an extension or permanent disability benefits.
Pursuing Further Recovery Outside of Workers' Compensation

In addition to providing an injured worker with economic support following a work-related injury, workers' compensation insurance also protects employers from workers filing civil suits for their damages. This means that as long as your employer has workers' compensation insurance that the law requires, you generally cannot file a suit in civil court for your workplace injury.
There are exceptions to this rule, however. First and foremost, if your employer does not have workers' compensation insurance as required by state law, then you would be able to start a personal injury claim against them for your workplace injury. It is also possible to have grounds for a civil suit if your employer compelled you to perform a task outside of your usual job duties that had the virtual certainty of resulting in harm. Finally, you could file a civil suit naming your employer if, for instance, they intentionally caused your injury somehow.
However, you could file a third-party claim for your injury if someone outside your work is responsible for your injury. For example, if you were driving a tractor for work near a road and a driver lost control of their vehicle and crashed into you, this would qualify as a work-related injury because you were working at the time. You could file your workers' compensation claim like you would after any other work-related injury, but then you could pursue additional compensation with a claim against the at-fault driver.
A third-party personal injury claim is an opportunity to recover damages that workers' compensation insurance does not cover, specifically your pain and suffering. Workers' compensation insurance may cover all your medical bills and a portion of your lost income after an accident at work, but if you have grounds for a third-party suit, you could recover compensation for income that insurance doesn't provide, as well as recompense for your pain and suffering. California law does not restrict how much you can claim in pain and suffering compensation, so this could enhance your total recovery significantly if you suffered any catastrophic harm from a third party's actions.
What to Expect From Your Workers' Compensation Attorney

Any farmwork-related injury has the potential to be a life-changing experience for the victim and impose various economic issues on their family. It's vital to have reliable legal counsel in the aftermath of any such incident, and an experienced Southern California workers' compensation attorney is the ideal resource to consult in this situation. When you hire the Mitchell Law Corporation to represent you, you will have access to a responsive legal advocate who can answer your questions, address your concerns, and provide you with ongoing support through every stage of your recovery efforts until you recover the compensation you're rightfully owed.
You have a limited time in which to file your workers' compensation claim, and our team is standing by to assist you with your recovery efforts. We accept work injury claims on a contingency basis, so there is no fee for our service unless and until we win your case. Contact the Mitchell Law Corporation today to schedule a consultation with a workers' compensation attorney and learn how we can help you recover from your work-related injury in the agriculture sector.