Carlsbad Workers' Compensation Lawyer

Getting injured at work is always a hassle, especially when expensive medical care and lengthy recovery times prevent you from returning to work. Filing a claim with your employer and speaking with a workers' compensation attorney are necessary for adequately addressing these claims. In Carlsbad, the legal professionals at Mitchell Law Corporation can help you receive the support you are entitled to.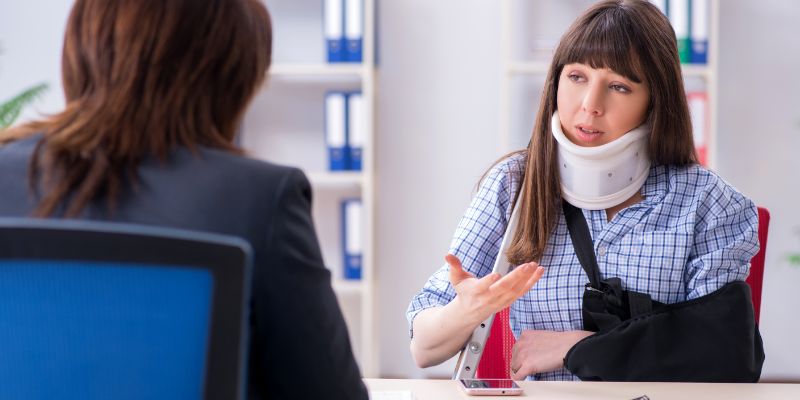 What Is Workers' Compensation?

Workers' compensation, also known as "workers' comp," is your employer's workplace injury insurance. They make payments to cover medical expenses incurred from your workplace injuries. Injury risk can be increased by the nature of certain industries, such as construction or jobs requiring physical labor. Standard desk jobs or less physically demanding roles are also eligible, despite not being as labor-intensive as construction. These low-impact positions with repetitive motions can still cause work-related injuries.
Workers' compensation payouts can be used to cover expenses like:
Medical costs
Missed wages while recovering
The costs associated with a long-term disability
In rare cases, death benefits for families whose loved one was killed while on the job
No amount of money can change the conditions that led to these settlements, not even for more severe injuries. Nonetheless, having financial security can help you prioritize your recovery over your debts.
Common Injuries Faced by Workers on the Job

The potential injuries workers face on the job can vary based on the field and occupation. For example, construction workers can face a higher likelihood of back, neck, or spine injuries due to the nature of their work. In contrast, chefs or people working in food service have a higher likelihood of getting burns from kitchen equipment.
Some of the most common kinds of injuries that affect workers in more labor-intensive fields include:
Falls from scaffolding on construction sites
Slips or trips on loose tiles in a kitchen
Back injuries from heavy lifting or recoiling to catch falling equipment
Illness caused by exposure at work, like mesothelioma from inhaling asbestos
Head and brain injuries from falling objects or accidents transporting materials
Deadly workplace accidents that result from unsafe conditions
For those in less physically demanding positions,
common workplace injuries include:
Carpal tunnel syndrome from repetitive, small motions
Back pain from sitting for most of the workday
Slips and falls in rooms around the office
Air quality issues from poor ventilation in larger buildings
Eye issues from excessive reading or technology use
All qualifying workers' compensation injuries can either be tied to negligence on behalf of the company or another person. Faulty equipment, unaddressed issues with the workplace, and ignoring repair requests can all lead to injured employees. This makes your employer responsible for the injury. For injuries resulting from another employee, especially if that employee was carelessly using equipment that led to your injury, this would make you eligible for workers' compensation.
What Injuries Are Not Covered by Workers Compensation?

Although all workplace injuries can initially be perceived as something warranting a workers' compensation claim, certain situations will not qualify. Employees who were injured in certain events will not be compensated. The most common conditions that do not count as injuries that warrant workers' compensation are:
Fights with other employees that result in injury
Car accidents that happen on the way to or from work
Intentional injuries, such as when an employee leaves a cord on the ground despite knowing it is a tripping hazard
Injuries sustained as a result of the employee's intoxication
For any workers' compensation injuries, the employee must have been clocked in and working when the injury occurred for it to count. Workers off the clock, or those visiting their worksite on their day off, who get hurt while at work, will not qualify for workers' compensation if they are injured in their workplace. Workers who drive as part of their job can still receive compensation for their injuries if they are on the clock at the time of the accident.
How Much Is the Average Workers' Comp Settlement in California?

The typical workers' compensation settlement in California ranges from $2,000 to $20,000. This range is significant, but without specific information about your situation, it is difficult to estimate the total amount your case will be worth. Medical expenses related to the accident are intended to be covered by workers' compensation payments. Your payment will be lower if your injuries are mild.
If you suffered a severe injury that required extensive medical care, the compensation would be significantly more. In the end, everything varies depending on how much it will cost to treat the damages. A temporary or long-term disability award from your workers' compensation may also help you provide for your family while recovering. Workers' compensation can also pay for retraining for a different job or industry.
What Percentage Does a Workers' Comp Attorney Get in California?

One of the lowest attorney fee percentages in the country is found in California. The Labor Code and the Workers' Compensation Appeals Board both restrict attorney fees in workers' compensation disputes. Attorney fees are allowed under the Labor Code and range from 9% to 12%. The Workers' Compensation Appeals Board has historically approved 15% for attorney costs.
For an attorney to collect any money from a workers' compensation case, the person filing the claim must win their appeal. You owe nothing if you lose your claim. Your attorney is allowed to collect up to 15% in legal fees from the benefits you win in your workers' compensation claim. In a few circumstances, the employer might be responsible for the legal fees. The 15% is often based on the award for permanent impairment.
When Should I Hire a Workers' Comp Lawyer?

For most workers' compensation claims, hiring a personal injury lawyer or workers' compensation attorney to handle your claim can be helpful throughout the whole claim filing process. A workers' compensation lawyer can help you begin the appeals process to correct your claim. This is especially useful if your claim is denied or not handled properly by your employer. Legal support can also help recover any missing benefits. These can be vital when a settlement amount does not completely cover the costs of your injuries.
For those with long-lasting disabilities stemming from their injuries, compensation for these injuries can span beyond a workers' compensation case settlement. Finding the legal assistance needed to take on these insurance companies can help you get the payments you need to be properly supported after your injury. This can also affect social security disability benefits. Finding an attorney who can help draft a settlement that includes provisions about these payments can help you retain your benefits.
Can I Get Fired for Filing a Workers' Compensation Claim?

If your employer is threatening to terminate your employment because you filed a claim, or if they try to cut your hours or demote you, you must find a workers' compensation lawyer to take on your case. For example, you go on leave for a back injury, and your employer decides to cut your hours once you return. This is a form of workplace retaliation. Any workplace harassment that is the result of filing a workers' compensation claim is blatant retaliation and needs to be addressed.
How to File a Workers' Compensation Claim

The workers' compensation process could appear straightforward at first, beginning with an injury and communication with your employer and insurance company. Although seemingly easy to handle, there are several complex steps that include more than just these simple tasks. To make a strong, defensible claim to your insurer, the following critical steps must be followed:
Addressing the Injury When It Happens: Notify your boss as soon as possible about the situation, and document any information they provide you with or that contributed to your injury. For example, if you slip and fall due to a puddle caused by a leaky HVAC unit, take pictures of the puddle and the leak. Save them alongside any communication between you and your boss about the incident.
Discuss the Workers' Compensation Process With Your Employer: After dealing with the immediate aftermath of the injury, speak with your employer about starting an internal claim with their insurance. They need to provide you with a Workers' Compensation Claim Form. If applicable, they should direct you to an internal human resources department that can help you start your claim.
Locate a Primary Care Doctor: The doctor you had already selected in writing with your employer before the accident may serve as the primary medical provider for your work-related injury. If not, you must choose a physician from your employer's health professional network or health care organization. Depending on the injury, these diagnoses can come from any medical professional able to properly evaluate your condition.
Watch for an Administrator's Response: Once they have your claim, your employer's insurance will determine whether your claim should be approved based on the information provided. If approved, the insurance administrator will determine your owed amount and provide you with that money. If your claim is denied, or the settlement is not enough to cover the cost of your injuries, speak with a workers' compensation lawyer. They can help you appeal the decision, allowing you to receive a more fair settlement.
Record Any Further Treatment: If the injury requires more follow-up visits, be sure to provide these to the claims administrator so they can be used to complete your claim. For ongoing injuries, or those that take longer to heal, make sure to take note of any further treatment courses. Also note any changes in your treatment plan that suggest alternate methods of care, if applicable.
Determine Disability Eligibility: The claims administrator will decide whether you are eligible for disability benefits. This decision will be in addition to your doctor's assessment. This may enable you to receive back payments that make up for the time you were waiting for your claim to be approved. Temporary compensation may start immediately if you are injured and cannot work for more than three days. However, it will not be possible to decide whether you are eligible for permanent compensation at this time. Your physician must first confirm that you cannot go back to your pre-accident status.
Verify Benefits Received: It is your employer's responsibility to pay medical bills on time. The claims administrator will issue disability benefits on a biweekly basis. You may be eligible for a Supplementary Work Displacement Benefit if your employer cannot offer you suitable work and you suffer from a persistent partial impairment.
Depending on the settlement, the claim may be challenged or appealed if more than the delivered amount is needed to cover your needs. Speaking with an experienced workers' compensation lawyer can help you:
Begin the claims process
Address problems with the existing settlement.
Help you get any missing funds or benefits.
How Do I Counteroffer a Workers' Comp Settlement?

The steps in a workers' compensation settlement negotiation may vary depending on the circumstance, state, and parties involved. You can typically anticipate that your workers' compensation lawyer will send an initial written complaint to the insurance company. This will include the sum you are seeking in the settlement, along with access to pertinent documentation if needed. You will then wait to hear back from them with a counteroffer.
After a few days or weeks of negotiations, the insurance company may accept the settlement amount or make a counteroffer. After reviewing the counteroffer, you can either accept it or continue negotiations until you reach an agreement that is acceptable to both parties. You will submit the settlement terms for final approval to the state's body that oversees workers' compensation settlements. Once settled, the case is considered closed, and your final settlement amount is confirmed.
Do Workers' Compensation Cases Always Go to Trial?

It is the goal of the workers' compensation claims procedure to keep legal action to a minimum. Usually settled through mediation, workers' compensation claims that require more in-depth deliberation can move to trial. In both scenarios, the other side can make you an offer to settle the dispute and resolve it quickly. Settlement agreements are useful for settling claims, although they may require some bargaining.
An offer for a settlement agreement can be renegotiated to better suit your needs. This frequently occurs and may allow you to request greater compensation. However, this process can be challenging, and you might not come to an agreement that everyone can live with. There are systems in place in some states to deal with this issue. If mediation does not work, you may be able to come to a legally binding solution with the aid of a workers' compensation judge in court.
Can a Workers' Compensation Decision Be Appealed?

Getting a claim rejected by the court can feel like a devastating loss. However, there are ways to appeal a workers' compensation decision. Both you and your employer's insurance company reserve the right to appeal a decision for a workers' compensation settlement. The two most common methods of appealing these decisions include:
Filing a Petition for Reconsideration: You must submit a Petition for Reconsideration to the Workers' Compensation Appeals Board (WCAB)'s local district office where your case was heard to initiate an appeal. The judgment or reward you got from your local district office must be appealed within 20 days of the day you received it, as per California Labor Code Section 5903. You have 25 days from the judgment's date. This can be found next to the judge's signature if you received the court's ruling in the mail instead of having it delivered to you.
Writ of Review: After an initial appeal, you may appeal the WCAB's judgment to the state appeals court for a "writ of review" if you or the insurance provider for your employer are dissatisfied with the verdict. The appellate court's options are restricted. According to California Labor Code Section 5950, it cannot overturn any factual conclusions reached by the appeals board. It can only evaluate whether the judgment was reasonable considering the circumstances at hand. If you want to appeal to the appellate court, you can submit a request for a writ of review up until 45 days from the day the initial petition was denied. If it was approved, you can appeal within 45 days of the date the new judgment or award was rendered.
Beyond the appellate court, you can bring the claim before the state Supreme Court if necessary. The California Supreme Court will hardly ever consider a workers' compensation appeal, even though you theoretically have the right to do so if you disagree with the appellate court's ruling. Consulting a workers' compensation attorney is essential, especially when appealing to higher courts.
Finding a Carlsbad Workers' Compensation Attorney

Employers are required to support their employees if they get injured at work. Although receiving workers' compensation can theoretically be done without counsel, hiring a workers' compensation attorney can help ensure you get all the benefits you are entitled to. The legal team at Mitchell Law Corporation specializes in workers' compensation cases. We have extensive knowledge and experience working with insurance companies and employers. To schedule a consultation with our team, visit our website and contact us today.